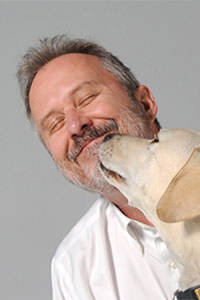 Ron Capps
Ron Capps is the founder and director of the Veterans Writing Project, a non-profit program that provides no-cost writing seminars and workshops for veterans, service members, and their family members. He is the curriculum developer and lead instructor for the National Endowment for the Arts programs that bring expressive and creative writing seminars to wounded warriors at the National Intrepid Center of Excellence. Ron is a graduate of both the Master of Liberal Arts program and the MA in Writing program of the Johns Hopkins University.
Although first diagnosed with Post-Traumatic Stress Disorder in 2002, it was not until a decade later, in 2012, that the Department of Veterans Affairs determined Ron to be a combat disabled veteran. Ron created the Veterans Writing Project in 2011 to help other veterans manage their trauma and to transfer to them the skills and confidence they need to tell their own stories. The VWP also publishes the quarterly literary journal O-Dark-Thirty.
A combat veteran of Afghanistan, Ron served in the Army and Army Reserve for 25 years, entering as a private and retiring as a lieutenant Colonel. He also served as a political officer in the Foreign Service. As a soldier or diplomat, Ron served in Rwanda, Kosovo, Afghanistan, Iraq, and in the Darfur region of Sudan. He was twice awarded the Bronze Star Medal for his service in Afghanistan and received the William R. Rivkin award from the American Foreign Service Association for "intellectual courage and the creative use of dissent" for challenging U.S. foreign policy following his service in Darfur.
Ron's policy writing and commentary have appeared regularly in TIME Magazine's Battleland blog and Foreign Policy, and in The American Interest, MondayDevelopments, Health Affairs, on Pacifica radio, the BBC World Service and NPr's All Things Considered. He has been a consultant or subject matter expert to Rolling Stone, Vanity Fair, PBS's The Newshour and Frontline. His literary writing has appeared in riverLit, JMWW, Prime Number, The Delmarva review, The New York Times, The Little Patuxent review, and in numerous online venues. His essay "Yellow" (a part of this memoir) was listed as notable in Best American Essays 2012; "The French Lieutenant's iPod" (also included in this memoir) was awarded first prize for creative non-fiction in the Press 53 open Awards in 2011.
Ron lives in Washington, DC and Youngsville, NY with his wife Carole Florman. He is at work on a novel set in Darfur and Sudan during WWI, as well as a short story collection, drawing on his experiences in Afghanistan.